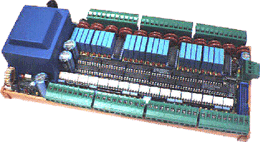 ZBR324 is an I/O estension to use in conjuntion with the GPC553 and GPC554 Embedded PLC controllers or as stand-alone input/output extension.
Main feature are: 32 Optoisolated inputs, 24 output relays 3A with MOV protection, 220VAC integrated power supply.
Relay outputs can drive signals up to 24V with a 3A max current.
A complete system (CPU+Extension) could be mounted on a standard industry DIN rail.